Gen II Compac
From Vintage Air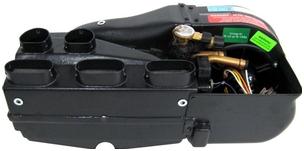 Our proven Gen II servo motor control technology makes this mid-sized package work better than many other's full size systems!! Three outlet vents allow you to positon your louvers wherever you need them. The Gen II Compac is an ideal system for coupes, classic trucks and smaller sedans. High torque gear drive servo motors control all airflow doors for increased travel, greater airflow, superior door sealing, and immediate response to control input.
Gen II Universal Features:
No reliance on engine vaccume- Important with high performance enignes!!
Our own engineered heating / cooling coils increase cooling capacity and heating capacity over other conventional designs.
CAD designed and virtuaal modeled evaporator case design allows signifcant airflow volume increases over conventional designs.
Superior air carpacity and control of dedicated dehumidified defroster mode.
Blower fan motor is isolated on rubber mounts for quiet running and longer life.
Multiple Control panel options.
Heavy Duty wiring harness with Circuit breakers and relays.
Servo operated adjustable heater with circuit breakers and relays.
Servo operated adjustable heater control valve for variable temp adjustment.
Gen II Compac Dimensions:
20.5" Long x 9" Tall x 7.75" Thick