Replacement Saftey Switches
From Vintage Air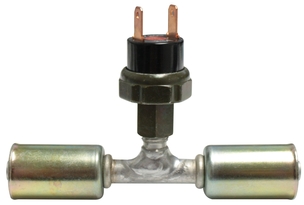 Inline Safety Switches - ALWAYS USE A SAFTEY SWITCH IN YOUR A/C SYSTEM!!
Trianry Switch Kit - Low pressure and high pressure compressor clutch cut off functions PLUS electric fan engagement signal at 254 psi 30 psi low pressure cut off. 406 psi high pressure cut off. Recommended for all electric fan installations.
Replacement Binary / Trinary Switches - Male Thread for Driers
Binary Switch Kit - Combines high and low pressure functions into one switch. 30 psi low pressure cutoff, 406 psi high pressure cutoff.