1955-57 CHEVROLET POWER WINDOW KITS
From Speciality Power Windows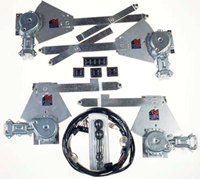 Classic '55-57 Chevy
5557-HT Shown

This is a complete kit with Chrome switches and stainless flexible wire conduits.

Street enthusiasts who are updating their classic Chevys will appreciate these kits which offer the late-model convenience of electric windows with easy installation and the smooth operation once installed. In all cases, the front door units are a straight bolt-in conversion, on the 2-dr sedan and hardtops, two holes have to be drilled for the quarter glass regulator (template provided).

These kits all use the rugged GM style motors. Since the new GM switches provided are not exactly like the originals, these switches are not for "Original" Restorations. Original switches require polarity reversing relay packs which we have available.