1947-54 Aluminum Fuel Tank
From Moosehead Radiators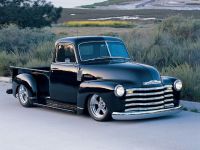 .125 (1/8") Thick Aluminum
100% TIG Welded and Pressure Tested
Full Internal Baffel System
Roll Over Valve INCLUDED on all Tanks.
Twist on Cap, or Tubing stub for remote fill.
Return Port
Drain port on EFi Feed Port on Carb Tanks
Thick 1/4" CNC Flanges for Fuel Sending Level, and EFI pump Flanges.
Carburated Bed Fill with Twist on Cap $400.00
Carburated Bed Fill with Screw on Cap $435.00
EFI Bed Fill with Twist on Cap, A/C Delco Pump $595.00
EFI Bed Fill with Screw on Cap, A/C Delco Pump $630.00
EFI Bed Fill with Twist on Cap, Aeromotive $695.00
EFI Bed Fill with Screw on Cap, Aeromotive $730.00