Traditional Polished Inside Door Handles
From Billet Specialties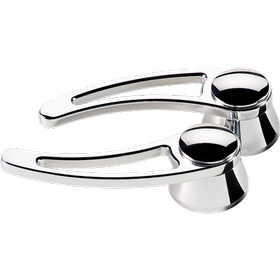 Dress up your door panels with our billet aluminum door handles and window cranks. Easy installation and fully adjustable to any angle. Polished finsih, sold in pairs.
Product Features
• Installs in minutes
• Precision machined from 6061-T6 billet aluminum
• Industry leading mirror finish polish
• Steel splines & two set screws for secure installation
Application 3/8" Square Spline:
• Ford cars to 1948
• Ford trucks to 1952
Application 7/16" Round Spline:
• GM cars to 1948
Application 1/2" Round Spline:
• GM/Ford cars to 1949 & Up*
* Most Applications.
Dimensions:
• Door Handles - 3-3/4" L