1969 Camaro Taillights Recessed - Slotted
From Billet Specialties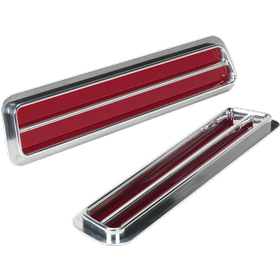 Billet Specialties recessed tail light bezels for the 1969 Camaro are precision machined from billet aluminum for a high-tech look. Not your ordinary cookie cutter machining, Billet Specialties bezels feature thousands of tool paths to blend hard edges into fluid style.
Available in traditional slotted RS style . Mirror polished finish.
Easy installation utilizes the factory housings and bulbs.