In-Tank Fuel Pump Module - PA-Series
From Tank's Inc.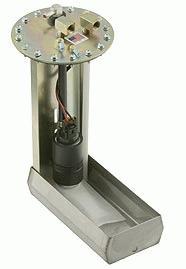 The pumps listed are capable of running anywhere from 40 to 100 PSI and they will deliver a varying amount of fuel (gallons per hour) depending on the pressure. We have recorded the GPH at 30, 40, and 60 PSI as a guide to finding the correct pump for your particular installation. In addition, you can use the following list as a general rule of thumb for some of the more common engine swaps. See below for Installation Instructions
Note: "TANKS" 35M, 37M, and U-T poly tanks do not require the "P" suffix.
Note: Our kits do not include pressure regulators.
Note: All flow rates are rated at 13.5 volts.
Note: Assembly requires a minimum tank depth of 6 inches.
Note: Maximum tank depth of 10.5 inches with no modification.
You assemble to the depth of your tank and install
All Metal Components are (Yellow Zinc Plated Steel)
Reservoir Tray Included
Supply Line
Return Line
Vent Opening
In-Tank Wiring Harness
40-100 PSI Rating
Threaded In-Tank Mounting Ring
Heavy Gauge Mounting Plate
Adjustable Support Arm
Genuine Walbro Fuel Pumps are supplied
Pump Flow Rates:
TBI 109 Liter Per Hour Pump
Deluxe 190 Liter Per Hour Pump
54 GPH @ 40 PSI
50 GPH @ 50 PSI
48 GPH @ 60 PSI
High Flow 250 Liter Per Hour Pump
68 GPH @ 40 PSI
65 GPH @ 50 PSI
62 GPH @ 60 PSI
High Performance 400Liter Per Hour Pump (500 - 1000 Horsepower)
106 GPH @ 40 PSI
99 GPH @ 50 PSI
91 GPH @ 60 PSI
NOTE: All Flow Rates Are At 13.5 Volts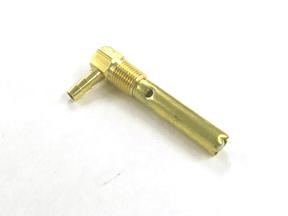 Optional 1/4" NPT Rollover Vent Valve for PA series Pumps. #VV
The PA series fuel pump assemblies come with a female 1/4" NPT fitting on the top plate. When converting your tank to fuel injection it is essential that your tank is properly vented. This rollover vent valve will thread right into the PA pump assembly.