VINTAGE AIR FRONT RUNNER ENGINE ACCESSORY DRIVE SYSTEMS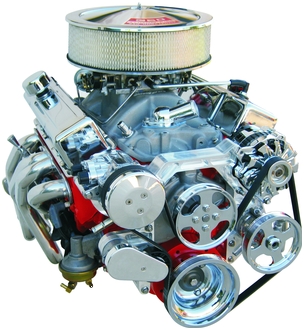 Vintage Air pioneered the first front engine component drive system engineered for maximum performance rather than simply cosmetics.
This totally engineered package solves the most critical shortcomings of conventional aftermarket accessory brackets such as: premature belt failures caused by mechanical tensioning, excessive belt length runs, awkward component placement, and cylinder head mount-bolt variations.
Front Runner Features:
Exclusive FrontRunner spring tensioner provides continuous SAE-spec static and dynamic belt tensioning for OEM quality belt life.
Exclusive block-mounted design allows any deck height/cylinder head combination. Uses no head or intake mounting bolts like conventional brackets.
Super rigid truss-architecture design CNC machined from T-6061 billet aluminum. Available in machined or gray anodized finish.
Exclusive fixed-position component mounting creates a super compact package within the basic engine size envelope. Fits into extremely tight chassis configurations.
Exclusive Precision machined Hardcoated aluminum pulleys reduce weight and wear like steel
Engineered to clear most GM and aftermarket tuned port fuel injection systems.
Pulley sizes engineered and matched for optimum component speeds
Click image or text to view details