Headers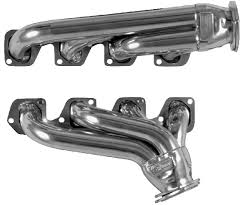 A Plus carries headers for both big and small block Ford and Chevy applications and all LS conversion headers, as well as Mopar and Buick applications from:
Sanderson
Doug Thorley
Hooker
Flowtech
These headers can be ordered uncoated (plain steel), or with a ceramic thermal coating. You can choose aluminized ceramic coating in silver or black applied as a multi-layer inside and outside ceramic coating and polished to a high luster. This coating provides aerospace and military technology to your vehicle to control the heat in your engine bay, improve cylinder scavenging of exhaust gases, and increase the longevity of your header investment.

See the product descriptions for coating options.