Vintage Air Complete SureFit Systems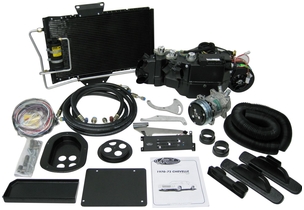 Vintage Air SureFit kits are designed to place the evaporator case and air duct hoses behind the dash for a factory clean look. In most cases the SureFit system will be controlled by your stock dash controls using our exclusive patented "Cable Converters". In some applications, a new "factory" look control panel is included with the kit. Some early truck kits must use additional switches. All SureFit systems provide full OEM style operations including, air conditioning mode, floor or vent exit heating and a powerfull dehumidified defroster mode. To retain a true factory look, the A/C air exits through the factory dash louvers if originally equipped in your car's dash The Vintage Air SureFit kits are the best value and the most completely engineered air conditioning systems you can install in your classic car or truck. Add the fact that Vintage Air has been the most respected name in performance aftermarket climate control systems for over 35 years and the choice is obvious!
Why replace your worn out OEM air conditioning system with a new Vintage Air "SureFit" kit? Consider these benefits:
1. SureFits cost about the same as replacing only an original compressor/evaporator on most cars.
2. Gen IV systems incorporate modern technology. No balky control cables or sticking vacuum doors
3. You get a full 3-year warranty and a system designed to outperform your original system. Uses R-12 or environmentally friendly HFC 134a refrigerant.
4. SureFit systems retain the factory look inside your vehicle, yet improve the under hood appearance by eliminating the heavy factory equipment.
5. Optional ProLine Series components are compatible with most SureFit systems.
6. Some 1960s and many 1970s cars cannot be calibrated to work optimally with 134a refrigerant.
A "Complete Kit" Or An "Evaporator " Kit?
"Evaporator" kits include: evaporator and bracket, louvers (when required), duct hose, wiring harness, new controls or Cable Converters, hardware and installation manual. Essentially all the components and accessories for the inside of the vehicle. The "Complete Kit" is just as it sounds and includes: everything above, plus all under-hood components such as compressor, engine brackets, condenser with brackets, pre-formed refrigerant lines, drier, fittings, hardware and installation manual. We recommend ordering a complete kit for reliability and optimum performance.